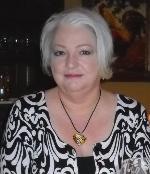 When I was in my early twenties I started going to wine tastings and joined some wine-tasting groups. I wanted to learn about wine and find a rich man to marry, and I thought this would be a good way to accomplish both. Well, the first part worked.

Over the years I've traveled to many of the world's greatest wine-producing regions and dined at some of the world's best restaurants. I've enjoyed private tastings with world-renowned winemakers, exclusive tours of wineries, and wine-tasting dinners prepared by Michelin-rated chefs.

I use my gift for languages to earn credibility by correctly pronouncing the names of wines and wine regions throughout the world. I love travel and maps, so I have a good grasp of the geography of wine country. My undergraduate degree in art gives me an understanding of and appreciation for the aesthetics of all things wine: the wineries, the bottles, the labels and of course the wines themselves. I have many years of experience writing technical training material and training adults to use technology. I draw upon this experience to make learning about wine fun and entertaining.

Practically speaking, I worked as a wine consultant for seven years in one of the biggest and best wine stores on the East Coast. I've participated in and conducted thousands of wine tastings. I read about wine and food, I study, and I practice, practice, practice. That's how to become a real wine-know!