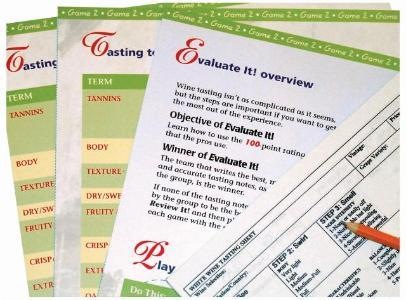 Professionals in the wine industry use standard criteria for evaluating wines. Play Evaluate It! to learn these criteria and the 100-point scale that has become the standard in the wine industry.

Use the customized Tasting Sheets included in the kit to evaluate the wine you are tasting. Additional blank Tasting Sheets are available for download on the
To Your Taste! Party Space.

Learn the technical terms that are used to describe wine. The major tasting terms are included on a chart in this wine game. Use the Tasting Terms Chart to complete your
Tasting Sheets and also to decipher wine reviews and wine descriptions.

Why play Evaluate It! ? You'll gain confidence!
Let's face it: wine ratings are just a way to get you, the consumer, to buy wines and buy the magazines that rate the wines. When you develop the skill to rate wines yourself, you'll gain the confidence to judge for yourself whether a wine really merits the high rating awarded by a magazine. There are hundreds of thousands of wines available to consumers; why limit yourself to the few thousand that the wine magazines have evaluated?