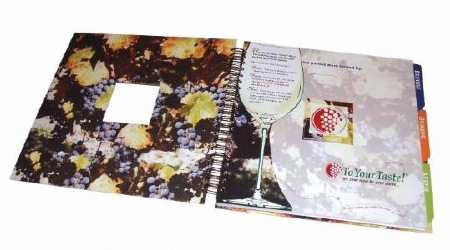 Why a scrapbook? Professional party planners know the secret to successful parties: It's essential to use lists and keep good notes. The scrapbook has the lists you need, plus pages for guests' comments, pages where you can record your notes on each party, and more pages for photos. Also included is an envelope for storing anything associated with your parties, like printed menus, recipes, wine bottle labels, or even receipts. You'll refer to this keepsake scrapbook long after you've hosted your parties!

The Scrapbook has 3 sections—

Before What you, the host, need to know and do before the party.

During As the host, you'll act as facilitator to guide your guests through 3 wine games:

Taste It!
Evaluate It!
Review It!

After How to preserve any leftover wine, save the labels, keep a log of each party
(guest list, wine list, food menu) and lots of space for your photos.