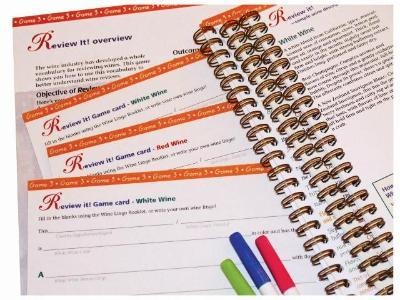 The wine industry has developed a whole vocabulary for reviewing wines. Review It! shows you how to use this vocabulary to better understand wine reviews.

The Review It! Game Card is a dry-erase board. Fill in the blanks on the Game Card to write your wine review. Use "Wine Lingo" provided in the Wine Lingo Booklets, or make up your own wine lingo.

Some of our favorite "wine lingo":
candied-ginger tree fruit
notes of road tar, tobacco leaves and coffee
flavors of molasses, brown sugar, red berries and earthy leather dominate
a Mae West-style wine

Why play Review It! ? Because it's FUN!
When you write a wine review yourself, you'll find out how subjective these wine reviews really are. De-mystify and de-code the whole concept of wine ratings, wine reviews, and wine critics. And have a whole lot of fun in the process!